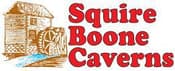 Also Available
A Treasure of Indiana History
Spend some time exploring our underground cave world, watch our restored grist mill in action as it produces biscuit, pancake and muffin mixes, and don't forget to take home a souvenir from our rock shop. It's Indiana's largest, with over 100 varieties of gems and minerals. Check our website for opening times of our Pioneer Village and for special events.

Open Year Round
Featuring
Cave Tour
Historic Grist Mill
Zipline Ride
Pioneer Village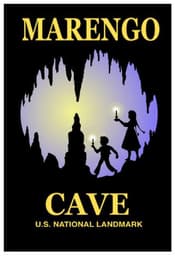 Also Available
U.S. National Landmark
Marengo Cave offers two walking tours, gemstone mining, the Crawl, a gift shop, walking trails, picnic grounds, and more. Friendly, knowledgeable guides interpret our delicate formations and immense passageways. Camping cabins are also available by reservation.

Open Year Round
Featuring
Crystal Palace Tour
Dripstone Trail Tour
Gemstone Mining
Cave Simulator
Camping Cabins
Campground
Cave Exploring
Looking for a family friendly activity? Come soar through the tree tops on our zipline. We're open March - November. It's the perfect outing for your scout troop, sports group or just a fun day out with friends. Come and check it out and get that adrenaline rush!

Open Year Round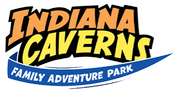 Also Available
Indiana's Longest Cave
Discover. Explore. Experience. Above and below the earth at the midwest's longest cave at Indiana Caverns Family Adventure Park. Our tour features heights, depths, ice age fossils, AND a boat ride 110 feet down. New surface fun: Bat Chaser, The Plunge, Escape Rooms and Feed the Goats.
Topside enjoy our new Bat Chaser zip coaster, starting 50 ft up, or "rescue the miners" in our new Escape Room 1000 feet down. Combine activities and save with our discounted packages.

Open Daily
One of the largest county museum in the state of Indiana, this 50,000 sq ft. museum showcases the rich German heritage and history of the area. Walk through "Main Street Dubois County," featuring 17 rooms reminiscent of the 1890s. Enjoy hands-on children's area, log cabin, historic progression of farm machinery, and numerous exhibits including those on sports and military, the furniture industry, early settler life, and the new Wildlife Adventure Room, showcasing wild game from all over the world.
Take a 1- 3/4 hour, 20 mile train trip through the Hoosier National Forest, past limestone rock cuts and through the 2200' Burton Tunnel.
The Harrison County Discovery Center, located in the historic Harrison County Jail, provides a high-tech, interactive experience showcasing the history, science, and people of Harrison County and Southern Indiana. Featuring five unique galleries and a 360-degree multimedia theater, your visit will leave you wanting to go out and discover Harrison County!
The Holiday Drive In Theater is a Family Entertainment operation. It has a theater concession stand with all the variety of food products of a Drive In Theater plus all the products of an old time Dairy Bar Restaurant. Operating from Early April through mid September. Open Fri, Sat, & Sunday while local schools out for the summer & only on Fri & Sat when school is in session. Open each night at 7:30 and shows start at dusk. Come early to enjoy the old time food as well as letting the kids play in the wide open spaces!
You'll find our marina tucked away in a quiet cove on the west end of Patoka Lake, offering everything you'll need for your time on the water. Plus, we have watercraft to purchase or to rent, with slip space to accommodate 200 boats. We rent Houseboats, Pontoon Boats, Fishing Boats, Yamaha Waverunner and Jon Boats. We also sell Manitou Pontoon Boats and Yamaha Outboard Motors. We pride ourselves on Enabling The Boating Lifestyle by keeping you on the water!
One of the finest entertainment, cultural, and educational venues in southern Indiana, this facility draws worldwide talent and experiences to an intimate setting. The 700-seat theater offers some of the highest quality professional performing arts events and programs currently on tour at affordable prices. The Krempp Gallery, which hosts 12 exhibits annually, houses artwork from local, regional, and nationally-recognized artists.
The historic Mitchell Opera House was built in 1906 and was originally County Hall when it first opened. In 1908 the building became an Opera House and was used for live Vaudeville acts, first run movies, class plays, and more. In 1930, the entertainment venue stopped hosting shows and became a storage facility for fire trucks and equipment. In the 1950's, part of the building was used as a "Teen Canteen" for youth gatherings, and thereafter became Mitchell City Hall from the 1960's until 1981. At that point, the Hartzell family took the initiative to re-open the Opera House and had occasional shows from 1985 to 2012. In the fall of 2014, the City of Mitchell deeded the property to Hoosier Uplands for renovations to the historic Mitchell Opera House in order to re-open and provide quality entertainment to the community! The venue re-opened in July of 2015.
The Mitchell Opera House hosts shows nearly every weekend with a variety of music and entertainment including: country music, bluegrass music, rock music, tribute bands, theatrical performances, musicals, and movies.
America's Greatest Voyage Underground
Mine for gems in our new sluice, hike our trails, enjoy a picnic lunch and explore an underground world of wonders on our guided boat tour. Be sure to take home a unique souvenir from our gift shop to remember your amazing experience with us.


Open Daily
Your Lodging & Boat Rental Destination
We have several land cabins to choose from and we also offer something very unique….floating cabins right on the water! Our house boats are very popular as well as our tour boats and family rental boats. Plus, there is a convenience store just steps away for all your needs. We've got the perfect place for you to unwind! During select weekends you can book either a Sunset Wine Cruise or Fall Foliage Wine Cruise.