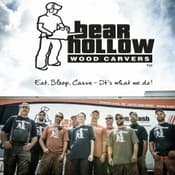 Also Available
Amazing Chainsaw Sculptures
Did you ever think of a chainsaw as an artistic tool? In the right hands, this instrument can turn a log into an amazing sculpture. Experience this full-throttle art form with the Bear Hollow Wood Carvers by visiting our gallery or watching one of our carvers perform across the United States.
Bear Hollow Wood Carvers are leaders in the chainsaw carving industry. Our team is lead by award winning carver Jason Emmons. Check our calendar for a demonstration near you. Or have our team carve a custom sculpture or an on-site carving just for you.

Open Year Round
We specialize in hand-crafted furniture, upcycled jewelry, hand-dipped in Indiana candles, hand-poured waxes & bath bombs, hand-painted signs, graphic-T's, as well as all your primitive home decor needs.

Nationally Known Artisans
Hinshaw Rock'n Gems is celebrating over 50 years in business. "Lapidary at its Finest". The Hinshaw family has been creating beautiful jewelry and decorator pieces since 1961 with one-of-a-Kind custom jewelry designed and created by Merrill Hinshaw. Named by Lapidary Journal as one of the top ten lapidary stone polishers in the nation, the Hinshaws truly create unique works of art.
As soon as you walk through the door, the wonderful aromas of chocolate and popcorn embrace you. Pick up some sweet treats or a gift basket for that special someone.
Southern Indiana's General Mercantile
Martin's Market is Southern Indiana's General Mercantile for the 21st Century. The only three-in-one store of its kind in the state, it offers Quality Overstock, Amish Goods, and Hoosier Products. A stroll around the aisles will yield treasures for both locals as well as tourists. Shoestring budgeters and shopping spree specialists alike may walk away with anything from discount household items or hand-crafted Adirondack Rockers to gourmet pretzels or locally produced goat soap. Regardless of their selection, they will know their time and money were well spent!